Every now and then, you'll see something and think, man, that would make one badass movie. Things like, Survivor Type , by Stephen King, for example; or this week's National Geographic podcast, Giant Sea Spiders Found. But if there were a List of Things That Would Be a Badass Movie, the #1 slot would belong to a certain Captain William "BJ" Blazkowicz.
Who is this Captain William "BJ" Blazkowicz, you ask? Well, he's just the guy blasted his way into the most heavily-guarded stronghold of insane Nazi medical experimentation, killing everything and everyone in his path, including Hitler in an enormous Assault Mech Powered Armor Suit. Twice. That's who.
In my spare time, I often google around for old games, obsolete software, and other things that feed my cognitive dissonance. The other night, while finishing my beer and planning another evening of tossing-and-turning insomnia, I came across this, and promptly slept like a baby:
On August 3, 2007, GameSpot reported that
Variety confirmed Return to Castle Wolfenstein and that the writer/producer team that was involved with Silent Hill will be involved with the Wolfenstein project.
Sadly, another entry on The List was Doom 3, which was made into a shitty, boring movie two years ago. But how, how, could anyone make a shitty movie about this?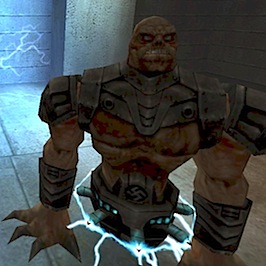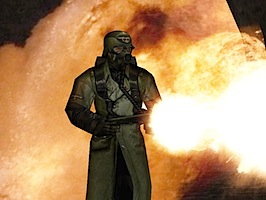 Nazis raising the dead, bloodied-up steampunky cyborg Super-Soldiers, and a gun-wielding leather-clad Dominatrix. What's not to love? Plus, the people making the movie are the guys who made Silent Hill. That film, you might recall, featured Hot Large-Breasted Zombie Nurses:

A very good sign.
RTCW screen shots stolen from the eye-opening Deaf Gamers: Return to Castle Wolfenstein
Pingbacks
Comments